ESD Vaccine Schedule
| 1 month | Recombivax | | |
| --- | --- | --- | --- |
| 2 months | Pentacel | Prevnar 20 | Rotateq |
| 4 months | Pentacel | Prevnar 20 | Rotateq |
| 6 months | Pentacel | Prevnar 20 | Rotateq |
| 9 months | Recombivax | | |
| 12 months | Varivax | Prevnar 20 | Vaqta |
| 15 months | MMR | | |
| 18 months | Pentacel | Vaqta | |
| 4-5 years | MMR | Varivax | Quadracel |
| 11 years | MenQuadFi | Adacel | Gardasil 9 |
| 11-15 years | Gardasil 9 | | |
| 16 years | MenQuadFi | Bexsero | |
| 16-18 years | Bexsero | | |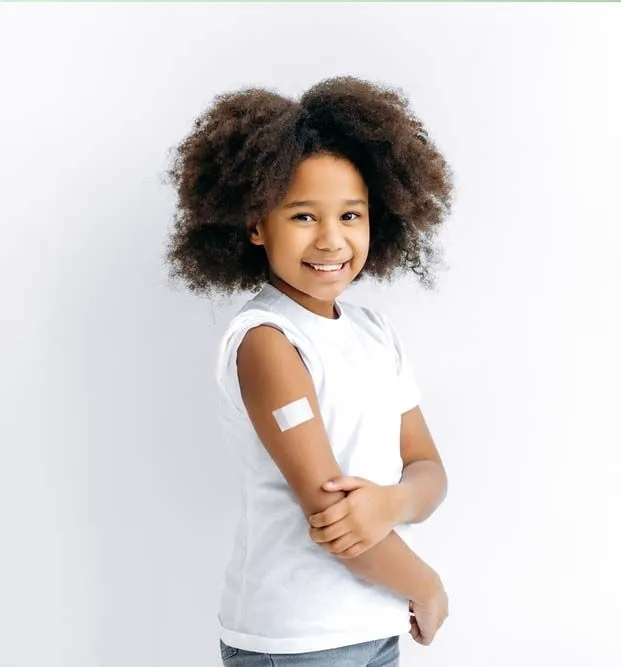 Key:
Recombivax

Hepatitis B Vaccine
Pentacel

DTaP + IPV + Hib combination Vaccine

Prevnar 20

Pneumococcal Vaccine - 20 valent

Rotateq

Rotavirus Vaccine (oral)

Varivax

Varicella Vaccine (chicken pox)

Vaqta

Hepatitis A Vaccine

MMR

Measles + Mumps + Rubella Vaccine

Quadracel

DTaP + IPV combination Vaccine

MenQuadFi

Meningococcal Vaccine - 4 valent

Adacel

Tdap

Gardasil 9

Human Papilloma Virus Vaccine - 9 valent

Bexsero

Meningococcal Vaccine Type B
Alternative vaccine schedules should be discussed with the ESD provider.
We also do offer individual vaccines if combination vaccines are not desired.
Seasonal vaccines (Flu, COVID, RSV) are also offered as recommended by CDC/AAP/ACIP.
ESD Pediatric Group Vaccine Policy (Click to view)

Any family seeking to delay vaccines or follow an alternative schedule should discuss this directly with the provider and will be asked to sign our vaccine refusal form.